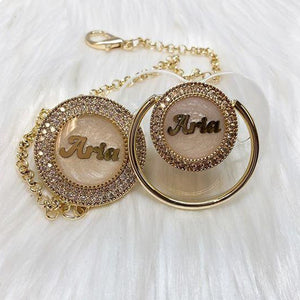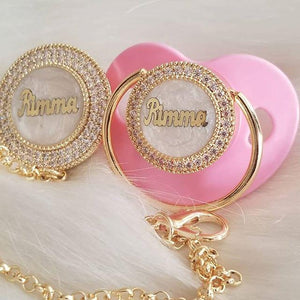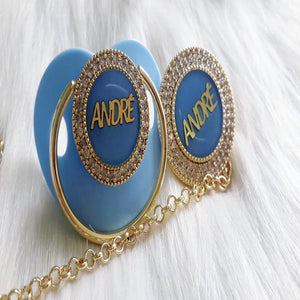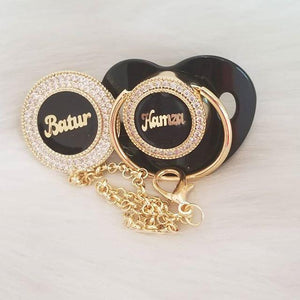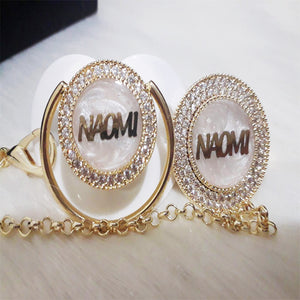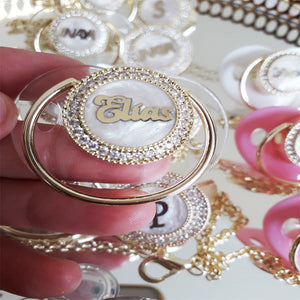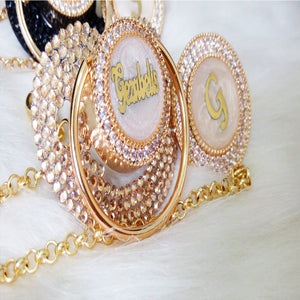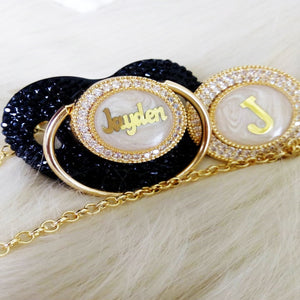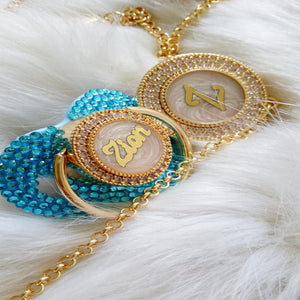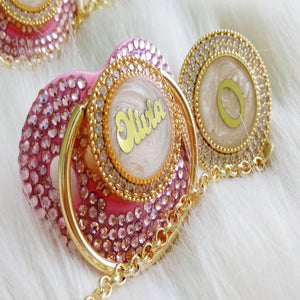 Personalized Custom Pacifiers with Rhinestone - Customized Luxury Pacifiers with Baby Name
Regular price
$55.00
Sale price
$39.00
---
Our Handmade Personalized Custom Pacifiers with Rhinestone with the baby's FULL name added in metal on the pacifier and the clip is the best luxury pacifier Gift for a newborn; these Personalized Pacifiers will make your baby look luxurious.
Give your baby the latest in pacifier fashion with custom pacifiers! Made with a silicone orthodontic nipple, this pacifier is designed to exceed all safety standards and look good with your custom baby's full name. Perfect for a baby's name or a witty expression, a custom pacifier is a fun way to get and give peace of mind.
Personalized gold dummy Customized pacifier engraved with your baby's name is a wonderful gift for a baby.
They are designed to suit your baby's age and stage and are made to the highest safety standards, so you can feel at ease knowing that your baby is satisfied.
Custom Pacifiers, Baby Girl baby boy Name, Child Safe Pacifier, and Safe to Sterilize
Personalized Pacifiers are Customized pacifiers engraved with the baby girl's name, monogram, or cute saying.
Key Features:
HANDMADE: The best thing about our handmade luxury pacifiers is that you can be sure that your baby pacifier is made with care and passion. Thus, it preserves the quality and high value of the pacifiers. This gives you an assurance that this crystal rhinestone pacifier is totally stunning and gorgeous will draw attention and will truly make your baby the center of attraction.
PERSONALIZED: Most moms love a unique gift for their babies and tend to write the name of their baby on every item that belongs to them (I bet you do this too). You can request a Customized pacifier, custom pacifier clips, custom pacifier holder, or custom bling shoes with her name initials or her full name on them.
This is why if you are looking for a unique and cute way of saying "I love you" to your baby this is the perfect gift.
TOP QUALITY: Ever wonder why our bling pacifier, pacifier clips, bling baby bottles, and bling baby shoes looked so beautiful and elegant? This is because of the real Rhinestone Crystal. Which is much more expensive than glass, does not fade, and rarely ages. These crystals have made this product shine like a diamond-like your baby. Because of this crystal, it is called "bling pacifier, pacifier clips, bling baby bottles, and bling baby shoes. That is why most moms love rhinestone crystals because it last longer, and you can surely keep your baby's memories forever.
all standard pacifiers.
MODERN DESIGN: These luxury pacifiers have Stylish unisex patterns, Modern and neutral colors for both boys and girls. Inspired by European design to be at the forefront of fashion and style. Perfect as baby shower gifts.
FUNCTIONAL:  Pacifiers, Pacifier Clip, and Pacifier holders are handcrafted with Crystal Rhinestone. Pacifier Clip can attach to clothing, blankets, strollers, or car seat straps, and stay firmly in place. 

CARE AND GIFT: This bedazzled pacifier set is Easy to clean & sterilize: simply use wipes or a damp cloth, and do not boil or place it in the dishwasher. They are securely packaged in a gift box ready to be presented as a baby gift.
These key features have made these custom pacifiers and custom clips worthy for photo sessions, christenings and baby shower, etc.
No wonder this has to captivate the hearts of 1900+ mommies all over the world.
Comes in colors: Transparent, Purple, Green, Pink, White and black
SAFETY: Mommies are so keen on choosing a product of their baby from headbands to shoes. Mommies like you can be sure that this product is safe for your baby since it meets the safety standards, You don't have to worry about its nipple since it is "made of Silicone and it is Anti-colic", therefore it is surely safe to use; it doesn't make him cry and does not harm your baby's little gums.
What is an Orthodontic Nipple?
The Orthodontic Nipple is the closest alternative to natural breastfeeding. During sucking, they flatten in the baby's mouth just like the mother's nipple to provide the most natural sucking action and reduce pressure on the gums and developing teeth. Studies have shown that orthodontic pacifiers cause fewer open bite or overbite problems than traditional round pacifiers.
Pacifier nipples are made of silicone and the shape is straight. Orthodontic, collapsible and symmetrical nipples respect the natural development of a baby's palate, teeth, and gums. Pacifiers are BPA / PHTHALATES FREE and made to the highest safety standards every baby deserves.
Personalized Dummy Pacifier Soother, an Orthodontic pacifier with an orthodontic silicone nipple helps soothe and comfort your baby.
100% BPA and PVC Free
One Size fits all 3+ Months
Ortho design teat.
Lightweight & Irritation free design
- Engraving is GUARANTEED NOT to Fade or wash off! 
Wipe off to clean.
All items are delicate and should be handled with care.
*Product requires adult supervision while using.
---