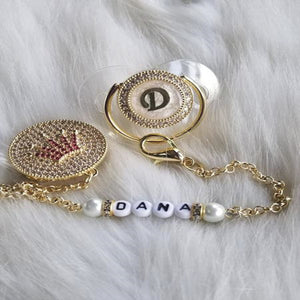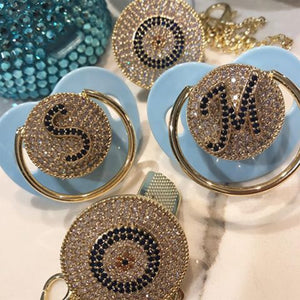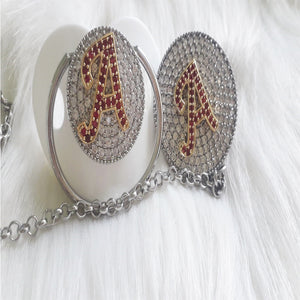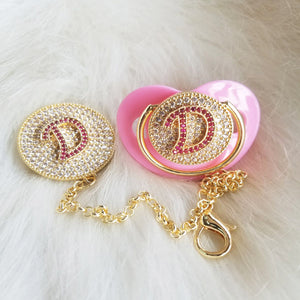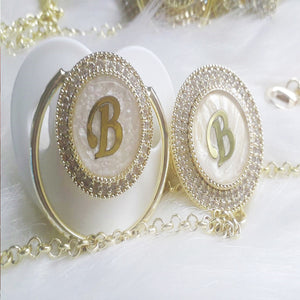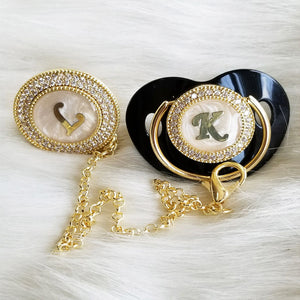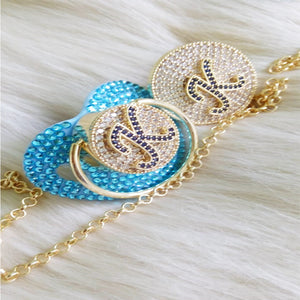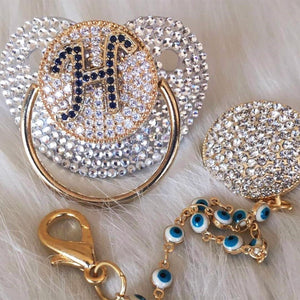 Custom Pacifier With Rhinestone Custom Clip and Custom Chain
Regular price
$55.00
Sale price
$39.00
---
Custom Pacifiers
You know better than anyone that your little new addition to your family is your pride and joy.  A lot of people have given you some great gifts and you know that you've got their support as they grow up. But, have you got the small details that really matter taken care of?  Do you know what makes your new arrival really look the part of "treasured"?  A custom pacifier with rhinestones, of course. 
Custom pacifiers are so much more than a twist on your traditional baby pacifier.  They offer customization and tiny details that make your baby a fashion leader before they're even old enough to know it!  Plus, they're adorable.  But, let's not get ahead of ourselves.
Why do I need a custom pacifier?
There are so many positives to something as modern as a custom pacifiers but we took the time to pull together some of the top reasons why you should opt for one when you find yourself in the marketplace:
It makes a great keepsake for your little one later in life:

 

When your baby grows up and starts to understand just how precious and loved he or she is, this custom pacifier is going to be the perfect way to show it. It is something special that was designed and bought just for him or her so that they could enjoy it in their first few months or years or life.  This will mean a lot to the child, the older they get.  It is something that they can keep appreciate how special it is. 
It adds some rationalization to an everyday object:

 

You're going to be needing a paci for your little, and you are going to be using it a lot. So, why not add a little sparkle and customization to it so that you can enjoy it even more?  It'll make you smile and feel good about your choice every time that your little one needs to use it.  
You need a good quality pacifier:

 

One thing to remember is that your baby will use a pacifier a lot. So, purchase a good quality, designer pacifier to make sure that you don't need to be relying on inferior design or craftsmanship that leaves you shopping for a new one sooner rather than later.
You want a pacifier you can trust:

 

Since all carers for babies worry about safety, our pacifiers are going to help quell those concerns. Our pacifiers are all safe and carefully designed using only the best materials.  This includes special attention to choking hazards and durability in case of drops or other accidents.  There's a lot to be said for a truly safe and effective pacifier in its craftsmanship. 
It looks amazing in photos:

 

An important detail to remember is that personalized pacifiers look absolutely adorable in photos. They're unique, customized to the baby, and help you make an adorable photo even more-so, even if you didn't think it possible.
What options are available for customization?
Now that you can see just how amazing customized pacifiers are for the baby in your life, you can take a look at what options are actually available to you to enjoy.  There are quite a wide selection of options available so that you can find the right match for you and your personal customization details.  Options include:
Monogramming/initials:

 

You can add the baby's first letter or name to the pacifier to make it a totally custom design. Contrast it with alternate colors, or allow it to match for a more subtle look. 
Rhinestone bling:

 

There's nothing quite as life-changing as a well-placed series of rhinestones. Our pacifiers have a wide selection of rhinestones available to help you get that perfect amount of bling each and every time that you want it. It'll glimmer in the sunlight, light up your baby's life, and look amazing in photos!  It can be used in monogramming or other details as wanted. 
Symbol detailing:

 

If you aren't interested in the idea of monogramming, you can still enjoy a great custom pacifier with a heart symbol or pure bling or even symbols and pictures that range in their sentimentality and more.
 The goal of customization is to find all sorts of options and design a pacifier from scratch that works for you.  That's why we put so much attention into the idea of rhinestones and monogramming and symbol use, among other options.  It's all about what you determine to be important for your little one.
 What about pacifier accessories?
Looking for enjoy customized details in pacifier accessories, too?  No problem.  We also feature pacifier clips that can be customized to match the pacifier itself.  This also means that you can enjoy your own attachment between pacifier and clip as well.  Want a classic mental chain?  We can do that.  Looking for a splash of color with beading on the chain?  We can do that, too.  Every detail of your customized pacifier can be perfected for you and your needs.
Who should I buy a pacifier for?
Maybe you like what you're seeing, but you don't have a baby in your life.  That's okay, because our customized pacifiers and clips make great gifts for those babies in the future.  Maybe it's your own, maybe it's a niece or nephew or even a grandchild.  There's no one that can't benefit from a customized pacifier, so make sure that you think of us when you are looking for something truly special when you have a baby in your life.
There's nothing quite like a customized pacifier, and we have got your best options for customization and quality right here.  All of this, and it is still going to be safe for your little one to use for as long as he or she needs it.  Can't find much better for a gift.  Now you just have to choose which custom rhinestone pacifier is going to be right for you!  Happy shopping.
---